About Global Shop Solutions
Global Shop Solutions ERP software offers small to medium-sized businesses a single and centralized platform from which to manage their manufacturing operations. Incorporating inventory management, scheduling and accounting functionality, Global Shop Solutions aims to deliver a comprehensive yet user-friendly ERP solution for manufacturers.
In order to manage manufacturing operations and customer relationships effectively, Global Shop Solutions equips users with shop management, CRM and sales management modules. Since Global Shop Solutions' shop and sales modules provide accurate real-time data, users can track and manage customer demands, production deadlines and sales funnel activity. The software also facilitates effective inventory tracking, quality control and advanced planning and scheduling processes with material tracking and drag-and-drop scheduling tools. Thanks to the system's company messaging functionality, users can communicate quickly and conveniently with customers as well as employees.
Other features include document management, project management and accounting capabilities. To streamline accounting activity, Global Shop Solutions grants users quick and central access to accounts receivable, accounts payable, payroll and budgeting data. Moreover, by promoting customizable reporting, Global Shop Solutions allows for detailed project management.
As an all-in-one ERP solution for manufacturers, Global Shop Solutions presents users with RFID technology, label printing and product configuration functionality. By employing business intelligence, reports and KPI dashboard, Global Shop Solutions enables users to gain actionable insight into business performance.
Pricing starting from:
N/A
Compare with Popular Alternatives
Key benefits of Global Shop Solutions
Offers real-time accounting functionality, allowing users to manage reporting, invoicing and payroll activity accurately and efficiently.
Company messaging tools enable users to communicate effectively with customers, vendors and employees using automated alerts and notifications.
Provides advanced planning and scheduling tools complete with drag-and-drop system, permitting users to manage resources and schedule manufacturing jobs.
Inventory management features serve to help users track and manage materials conveniently with multi-location inventory, cycle counting and product line reporting functionality.
Extends unlimited reporting options, affording users the flexibility to forecast business trends as well as gain insight into current business performance.
Markets
United States, Canada, United Kingdom, Australia, China, India, Mexico
Supported Languages
Chinese (Simplified), English, French, German, Italian, Spanish
Pricing starting from:
N/A
Compare with Popular Alternatives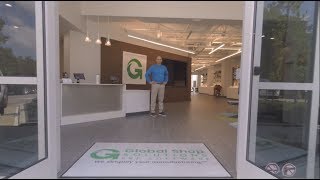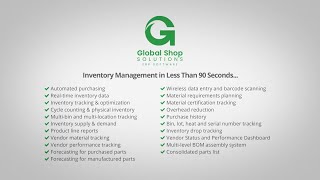 Total features of Global Shop Solutions: 81
"What If" Scenarios
ACH Payment Processing
Accounting Integration
Accounting Management
Activity Dashboard
Activity Tracking
Attendance Tracking
Automatic Notifications
Bank Reconciliation
Barcode Scanning
Benchmarking
Benefits Management
Billing & Invoicing
Bills of Material
Budgeting
Business Intelligence
CRM Integration
Capacity Management
Client Management
Commission Management
Communication Management
Credit Card Processing
Custom Fields
Customer Database
Customisable Branding
Customisable Reporting
Cycle Count
Data Import/Export
Deadline Management
Dispatch Management
Distribution Management
Document Management
Document Storage
Drag & Drop Interface
Electronic Payments
Email Alerts
Email Marketing Management
Estimating
Event Management
Financial Analysis
Financial Management
Forecasting
Goal Setting / Tracking
HR Management
History Tracking
Inventory Management
Inventory Tracking
Invoice Management
Job Costing
Label Printing
Multi-Location
Payroll Management
Performance Management
Planning Tools
Production Tracking
Productivity Reporting
Project Management
Prospecting Tools
Purchase Order Management
Purchasing Management
Quality Control
Quote Management
RFID Scanning
Real Time Data
Real Time Reporting
Real Time Updates
Reporting & Statistics
Sales Analytics
Sales Orders
Sales Tracking
Search Functionality
Shipping Management
Supply Chain Planning
Third Party Integration
To-Do List
Training Management
User Management
Version Control
Warehouse Management
Work Order Management
eCommerce Management
simPRO
#1 Alternative to Global Shop Solutions
simPRO is a powerful field service management software solution that helps trade contractors streamline operations to...
ERPNext
#2 Alternative to Global Shop Solutions
ERPNext is a fully open-source ERP system for companies of different sizes (SMBs to Enterprises) across multiple...
Continuans
#3 Alternative to Global Shop Solutions
Continuans ERP is a scalable postmodern Enterprise Resource Planning solution designed to help you manage your...
UpKeep
#4 Alternative to Global Shop Solutions
UpKeep is a mobile computerized maintenance management software (CMMS) which allows users to manage their team, assign...
---
Already have Global Shop Solutions?
Software buyers need your help! Product reviews help the rest of us make great decisions.
Write a Review!
Showing 5 reviews of 65
Industry: Electrical/Electronic Manufacturing
Company size: 201-500 Employees
Used

Daily

for

2+ years

Review Source
Overall rating
Value for Money

Ease of Use

Customer Support

Likelihood to recommend

10.0

/10
Excellent experience over the past 10 years
Reviewed on 4/4/2018
GSS has been a good fit for us by providing a fully developed, all-in-one business resource, from a...
GSS has been a good fit for us by providing a fully developed, all-in-one business resource, from a software provider that acts more as a partner than a vendor.
Pros
We find GSS to be a highly developed ERP tool with some very sophisticated functionality; not all of which we need to take advantage of, but is there if/when we decide to. The extensive range of selective parameters allowed for flexibility in how we configured the software to function for our business, so the implementation process was key for us. And we find, even 10 years in, that these software options along with GSS's continual commitment to software enhancements have been able to keep up with the evolving processes and informational demands of our business. And I can't say enough about their customer service support.. extremely responsive, always professional, and highly competent. In almost every instance, our service calls have been responded to the same day, and the norm is resolved to satisfaction within 48 hours of initial contact. With our business going 24/6, this level of responsiveness is critical.
Cons
Issues we had with moving between modules to gain information - or a "big picture" approach - have been satisfied with the introduction of dashboards throughout all areas of the software. Some lag in the system has developed from recent changes within the software but we believe are being addressed.
Industry: Electrical/Electronic Manufacturing
Review Source
Overall rating
Ease of Use

Customer Support

Likelihood to recommend

9.0

/10
Solid and Flexible System with Advanced Features.
Reviewed on 29/4/2014
Pros
The product is very flexible, detailed, and truly integrated. It is capable of delivering capabilities and options that most vendors only seem able to promise. This, matched with a very high reliability, makes the system a good match for most manufacturing organizations.
The integration and interface make for a good user experience that is flexible enough to meet most users' needs. This is accomplished through the true integration of all major areas of functionality and makes operation very smooth. We rely heavily on the integrated Document Control systems to provide information relevant to users and customers through the manufacturing process and afterward. It is a huge timesaver and allows us to answer most customer questions on a single call, chat, or e-mail.
Another great advantage of this is the company behind the software. First, you are dealing with a family owned company with no intention of selling. This speaks to the commitment of the company to the product and its support. Second, they are the developers of the software, which ensures a tight integration between modules and understanding of issues. And finally, the same organization selling and supporting the software is also writing it. This is huge and avoids drawn out finger-pointing sessions between the software company and VARs that leave you high and dry with other solutions.
Cons
Dealing with issues after upgrades and limited support for older versions are a hassle. Being that it is such a complex piece of software and is tweaked to each user's needs, I understand that issues crop up, but that doesn't make dealing with them any less difficult.
Industry: Machinery
Company size: 201-500 Employees
Used

Daily

for

2+ years

Review Source
Overall rating
Value for Money

Ease of Use

Customer Support

Likelihood to recommend

7.0

/10
IT Support Opinion
Reviewed on 5/4/2017
As person supporting the software, I find it a bit difficult. We are not able to fully use the...
As person supporting the software, I find it a bit difficult. We are not able to fully use the installer module. We have to uncheck a number of options because they cause problems. We uncheckPervasive because the module installs Pervasive 12 and we are on Pervasive 11. It took several problem installs and a support request learn this. We uncheck Crystal because the current Crystal reports will not correctly print our tags. It took almost a year to find the cause of this issue. We are not notified when new installers are released nor are we told what issues they may have, e.g., the Pervasive 11 issue. The installer is still not complete. We have to manually add components after the install because of issues with the client.
During the last update, the instructions clearly stated we could update the clients before updating the server. This was not true and caused the client to quit working. We discovered this after pushing out the updates to all of our workstations.
The overall impression is that the software is slow. We have done everything we can to speed up the server, new VM with more memory and more processing power and 64 bit Pervasive. Still too slow.
Generally speaking support is good. Support generally resolves any issues. However, response time varies from almost immediate response to days after submitting request.
IT Info feature of the client are an issue. We have been told we cannot trust the Workstation Components of this feature, although the info on the screen changed significantly this morning. We have had an ongoing issue with the Workstations listed since the list is not cleared when a workstation signs off.
The GUI time field does not match the time on the server nor the time on its workstation. This is an issue for those clocking in and out.
Errors messages are a problem. We cannot look them up in help and there is no forum nor other place to find out what an error means. So we usually have to submit a support ticket unless we have already encountered the error. So comment above about support response time.
Pros
It is full featured. Support is generally good.
Cons
Slow. Info about installation is not disseminated.
Industry: Electrical/Electronic Manufacturing
Company size: 11-50 Employees
Used

Daily

for

2+ years

Review Source
Overall rating
Value for Money

Ease of Use

Customer Support

Likelihood to recommend

10.0

/10
Operations Manager
Reviewed on 27/3/2017
We went live in Global Shop on 04-01-15 and in virtually all areas of our company, it's simplified...
We went live in Global Shop on 04-01-15 and in virtually all areas of our company, it's simplified how we operate. Is there a learning curve? Yes, but we went into the transition expecting a learning curve! It was new, complex software that took the place of multiple homegrown systems. It took 4 months from when we started till we went "live", which for us exceeded our expectations.
Pros
1. Customer Support - Global Shop was and has been with us every step of the way. It's an understatement to say selecting an ERP system is a big deal! There will be questions/issues to work through and when those questions/issues come up, you need answers ASAP. Global Shop has been there for us.
2. Simplifies operation - Having everything one umbrella has been a game changer for us. No more double entering.
3. The list goes on - Advanced Planning/Scheduling, visible inventory, real-time job costing, auto-purchasing, etc.
Cons
1. The shop side has been fantastic. The office gals had a tough time transitioning the accounting side to Global Shop from Quickbooks. Although one thing I will say on this is, Global Shop was always there to answer questions, and now after we are up and going our accountant says her job is easier.
2. Updates (we've been updating yearly). We are committed to staying up to date with the software. So far I've done three updates. Two were seamless and one took a bit more work.
Industry: Mining & Metals
Review Source
Overall rating
Ease of Use

Customer Support

Likelihood to recommend

9.0

/10
A great solution for your manufacturing business!
Reviewed on 17/4/2014
Pros
The product: GSS is truly a one-system ERP. Every aspect of our business will soon be done inside of GSS. There will be no more Word documents or spreadsheets! We utilize nearly all of the GSS modules and a few non-standard modules/programs in addition. One of the most valuable non-standard modules/programs for us has been the SolidWorks to GSS upload tool. This module allows us to model a custom job in SolidWorks and upload the Bill of Material directly to GSS.
One last thing that is nice about GSS is that the number of options for your company is vast. If you don't like the way GSS handles a certain process/action, there is probably an option to change it. Or, with GAB, you can change it yourself or ask GSS to write the GAB for you.
The vendor: GSS is great to work with. They respond quickly to inquiries or problems and have a variety of pre-recorded or virtual training options (not to mention on-site training) available.
The product and vendor: GSS does not stop moving. GSS continues to make their programs and services better and better.
Cons
The product: GSS heavily utilizes Crystal Reports to generate nearly all reports. Almost a year ago, SAP (Crystal Reports) changed the level of process GSS was able to use, making the report generation slower. It has been a minor inconvenience, but an inconvenience nonetheless. GSS has been working on solutions for this, and it has gotten better with the latest updates. We are an update or two behind the current version (shame on us!), in which the update notes have included details about fixing this issue. Obviously, it hasn't been enough of an inconvenience for us to install the update immediately.
The vendor: Occasionally, if you are requesting personal (virtual) training with a specific trainer or on a specific topic, you may wait possibly up to a week or two. This has only happened once or twice, and they are usually able to accommodate much quicker.
Global Shop Solutions FAQs
Below are some frequently asked questions for Global Shop Solutions.
Q. What type of pricing plans does Global Shop Solutions offer?
Global Shop Solutions offers the following pricing plans:
Pricing model: Subscription
Free Trial: Not Available
To receive accurate pricing information, contact Global Shop Solutions directly.
Q. What are the main features of Global Shop Solutions?
Global Shop Solutions offers the following features:
'What if' scheduling
ACH payment processing
Accounting management
Advanced planning & scheduling
Application security
Bank reconciliation
Barcode scanning
Benchmark results
Bills of material
Budgeting & forecasting
Business intelligence
CRM
Capacity planning
Commissions
Communication management
Credit card processing
Custom built KPIs
Customer management
Customizable branding
Customizable reporting
Customizble fields
Cycle count
Data export to Excel
Deadline tracking
Dispatch management
Distribution management
Document approval
Document management
Drag & drop interface
Email marketing
Enterprise asset management
Estimating
Event management
Financial analysis
Financial management
Forecasting
Graphical data presentation
HR management
Inventory control
Inventory management
Inventory tracking
Invoice management
Invoices
Job costing
KPI dashboard
Label printing
Multi-location inventory
Payroll management
Performance measurement tool
Production tracking
Productivity reporting
Project management
Prospecting tools
Purchasing
Quality control
Quote management
Real time data
Real time reporting
Real time updates
Real-time alerts
Reporting & statistics
Returned materials authorization
Sales analytics
Sales goals management
Sales history
Sales management
Sales orders
Sales tracking
Shipping management
Shop Floor Data Collection (SFDC)
Shop Floor Display TrueViews
Shop Management
Supply chain management
Third party integration
Time & attendance tracking
To-do lists
Training management
Version management
Warehouse management
Work order generation
eCommerce management
Q. Who are the typical users of Global Shop Solutions?
Global Shop Solutions has the following typical customers:
Small Business, Mid Size Business
Q. What languages does Global Shop Solutions support?
Global Shop Solutions supports the following languages:
Chinese (Simplified), English, French, German, Italian, Spanish
Q. Does Global Shop Solutions support mobile devices?
We do not have any information about what devices Global Shop Solutions supports
Q. What other apps does Global Shop Solutions integrate with?
Global Shop Solutions integrates with the following applications:
DataTrans WebEDI, Fulcrum, Microsoft Project, Paycom, SAP Concur, Shopify, Spreadsheet Server, SugarCRM, TSheets, Xero
Q. What level of support does Global Shop Solutions offer?
Global Shop Solutions offers the following support options:
Phone Support, Online Support, Video Tutorials, Forum
Related categories
See all software categories found for Global Shop Solutions.