About Global Shop Solutions
Global Shop Solutions ERP software offers small to medium-sized businesses a single and centralized platform from which to manage their manufacturing operations. Incorporating inventory management, scheduling and accounting functionality, Global Shop Solutions aims to deliver a comprehensive yet user-friendly ERP solution for manufacturers.
In order to manage manufacturing operations and customer relationships effectively, Global Shop Solutions equips users with shop management, CRM and sales management modules. Since Global Shop Solutions' shop and sales modules provide accurate real-time data, users can track and manage customer demands, production deadlines and sales funnel activity. The software also facilitates effective inventory tracking, quality control and advanced planning and scheduling processes with material tracking and drag-and-drop scheduling tools. Thanks to the system's company messaging functionality, users can communicate quickly and conveniently with customers as well as employees.
Other features include document management, project management and accounting capabilities. To streamline accounting activity, Global Shop Solutions grants users quick and central access to accounts receivable, accounts payable, payroll and budgeting data. Moreover, by promoting customizable reporting, Global Shop Solutions allows for detailed project management.
As an all-in-one ERP solution for manufacturers, Global Shop Solutions presents users with RFID technology, label printing and product configuration functionality. By employing business intelligence, reports and KPI dashboard, Global Shop Solutions enables users to gain actionable insight into business performance.
Key benefits of Global Shop Solutions
Offers real-time accounting functionality, allowing users to manage reporting, invoicing and payroll activity accurately and efficiently.
Company messaging tools enable users to communicate effectively with customers, vendors and employees using automated alerts and notifications.
Provides advanced planning and scheduling tools complete with drag-and-drop system, permitting users to manage resources and schedule manufacturing jobs.
Inventory management features serve to help users track and manage materials conveniently with multi-location inventory, cycle counting and product line reporting functionality.
Extends unlimited reporting options, affording users the flexibility to forecast business trends as well as gain insight into current business performance.
Markets
Australia, Canada, United Kingdom, Mexico, United States
Supported Languages
Chinese, English, French, German, Italian, Spanish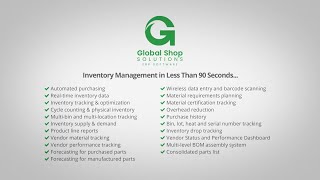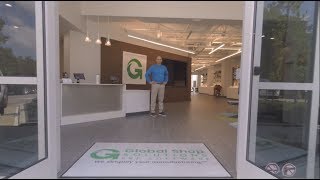 Total features of Global Shop Solutions: 92
"What If" Scenarios
ACH Payment Processing
Accounting
Accounting Integration
Activity Dashboard
Activity Tracking
Alerts/Notifications
Attendance Tracking
Bank Reconciliation
Barcode / Ticket Scanning
Benchmarking
Benefits Management
Billing & Invoicing
Bills of Material
Budgeting/Forecasting
CRM
Capacity Management
Client Management
Commission Management
Communication Management
Credit Card Processing
Customer Database
Customisable Branding
Customisable Reports
Customizable Fields
Cycle Count
Data Import/Export
Deadline Management
Dispatch Management
Distribution Management
Document Management
Document Storage
Drag & Drop
ERP
Electronic Payments
Email Alerts
Email Marketing
Enterprise Asset Management
Estimating
Event Management
Financial Analysis
Financial Management
Forecasting
Goal Setting / Tracking
HR Management
Historical Reporting
Inventory Management
Inventory Tracking
Invoice Management
Job Costing
Label Printing
MES
Maintenance Management
Manufacturing Planning
Material Requirements Planning
Multi-Location
Order Management
Payroll Management
Performance Management
Planning Tools
Production Scheduling
Production Tracking
Productivity Analysis
Project Management
Prospecting Tools
Purchase Order Management
Purchasing & Receiving
Quality Control
Quality Management
Quotes/Estimates
RFID Scanning
Real Time Data
Real Time Reporting
Real-time Updates
Reporting & Statistics
Reporting/Analytics
Safety Management
Sales Orders
Sales Reports
Sales Trend Analysis
Search/Filter
Shipping Management
Supplier Management
Supply Chain Management
Third Party Integrations
To-Do List
Training Management
User Management
Version Control
Warehouse Management
Work Order Management
eCommerce Management
Odoo
#1 Alternative to Global Shop Solutions
Odoo is a fully-integrated, customizable, and open-source suite of business applications. A majority of the business...
NetSuite
#2 Alternative to Global Shop Solutions
NetSuite is the world's #1 cloud ERP solution trusted by more than 24,000 high-growth customers worldwide to run all of...
QuickBooks Desktop Enterprise
#3 Alternative to Global Shop Solutions
QuickBooks Desktop Enterprise is an accounting software for small businesses which provides users with real-time access...
QT9 ERP
#4 Alternative to Global Shop Solutions
Unify all your manufacturing, sales, inventory, purchasing and financial management functions with QT9™ ERP. Unify...
---
Already have Global Shop Solutions?
Software buyers need your help! Product reviews help the rest of us make great decisions.
Write a Review!
Showing 5 reviews of 65
Industry: Electrical/Electronic Manufacturing
Company size: 201-500 Employees
Used

Daily

for

2+ years

Review Source
Overall rating
Value for Money

Ease of Use

Customer Support

Likelihood to recommend

10.0

/10
Excellent experience over the past 10 years
Reviewed on 4/4/2018
GSS has been a good fit for us by providing a fully developed, all-in-one business resource, from a...
GSS has been a good fit for us by providing a fully developed, all-in-one business resource, from a software provider that acts more as a partner than a vendor.
Pros
We find GSS to be a highly developed ERP tool with some very sophisticated functionality; not all of which we need to take advantage of, but is there if/when we decide to. The extensive range of selective parameters allowed for flexibility in how we configured the software to function for our business, so the implementation process was key for us. And we find, even 10 years in, that these software options along with GSS's continual commitment to software enhancements have been able to keep up with the evolving processes and informational demands of our business. And I can't say enough about their customer service support.. extremely responsive, always professional, and highly competent. In almost every instance, our service calls have been responded to the same day, and the norm is resolved to satisfaction within 48 hours of initial contact. With our business going 24/6, this level of responsiveness is critical.
Cons
Issues we had with moving between modules to gain information - or a "big picture" approach - have been satisfied with the introduction of dashboards throughout all areas of the software. Some lag in the system has developed from recent changes within the software but we believe are being addressed.
Industry: Electrical/Electronic Manufacturing
Review Source
Overall rating
Ease of Use

Customer Support

Likelihood to recommend

9.0

/10
Solid and Flexible System with Advanced Features.
Reviewed on 29/4/2014
Pros
The product is very flexible, detailed, and truly integrated. It is capable of delivering capabilities and options that most vendors only seem able to promise. This, matched with a very high reliability, makes the system a good match for most manufacturing organizations.
The integration and interface make for a good user experience that is flexible enough to meet most users' needs. This is accomplished through the true integration of all major areas of functionality and makes operation very smooth. We rely heavily on the integrated Document Control systems to provide information relevant to users and customers through the manufacturing process and afterward. It is a huge timesaver and allows us to answer most customer questions on a single call, chat, or e-mail.
Another great advantage of this is the company behind the software. First, you are dealing with a family owned company with no intention of selling. This speaks to the commitment of the company to the product and its support. Second, they are the developers of the software, which ensures a tight integration between modules and understanding of issues. And finally, the same organization selling and supporting the software is also writing it. This is huge and avoids drawn out finger-pointing sessions between the software company and VARs that leave you high and dry with other solutions.
Cons
Dealing with issues after upgrades and limited support for older versions are a hassle. Being that it is such a complex piece of software and is tweaked to each user's needs, I understand that issues crop up, but that doesn't make dealing with them any less difficult.
Industry: Electrical/Electronic Manufacturing
Company size: 11-50 Employees
Used

Daily

for

1+ year

Review Source
Overall rating
Value for Money

Ease of Use

Customer Support
Absolutely horrible user interface.
Reviewed on 18/8/2017
We've been using this program for about 13 months now and I struggle to find anything to say that...
We've been using this program for about 13 months now and I struggle to find anything to say that is positive. In summary, if anyone is considering using this program to make their work simpler, they'll be very disappointed. Below are some notes.
Note; I have paragraphs and paragraphs of how bad this program is but I'll try to be brief.
The user interface is, without question, the worst I've ever encountered in almost 30 years of working with computers. Text interface is awful. Sometimes when you first click a field, any input will then erase and replace what's in there. Other times when you first click a field, any input will append what is already in there. Sometimes you have to hit "enter" to get your edit accepted, other times you have to "tab" to have it accepted.
Sometimes it will let you input lower-case, sometimes it won't. Also, sometimes the field is case-dependent, but most times it is not.
Text: cursor placement. Sometimes mouse-clicking in the field places your cursor at the home position. Sometimes it places it at the end of the text. Sometimes it actually is highlighting ALL of the field. You don't know what it's going to do because it does it differently depending on the window you're working in.
Concerning text, you have to press the "insert" key to keep from overwriting text when editing a field. Overwriting is GSS's default action and there is no control-z function to correct any mistake, should you happen to overwrite what was in the field. Many of the GSS windows don't have a "minimize" button; only an "X".
I don't like that GSS's windows take precedence over all of the other windows on my machine. Even though I've selected (let's say) Outlook to view right now, GSS's inventory browser always stays in front of it. I can still click around and work in the Outlook window but the GSS inventory window is displayed in front of it. The only way to get it out of the way is to CLOSE it. There's no minimize button.
Doing an order or a quote makes you open a new window for your lines. However, the old window (header) stays open and blocks what's behind it. You can't move it, either because it's not the active window.
The cut/paste form fill interface is very difficult to decipher and almost impossible to use if you don't have an insert button. Can't control-Z. If you get GS's text interface (above) wrong, you can't control-z to undo. Again… Windows 95 had this action. This can't be said often enough. You can't control-Z. There is no "undo" functionality. You can't even close/abort an order w/o saving it. Copy and paste, even insert, are a mystery. It always behaves differently depending on the specific window that's open.
In closing, I would recommend that you run -with all your might- away from this sophomoric attempt at a user interface.
Cons
This program will not interface with Windows(tm). Among other things, you cannot use control-Z. Formatting is not possible.
Industry: Electrical/Electronic Manufacturing
Company size: 11-50 Employees
Used

Daily

for

2+ years

Review Source
Overall rating
Value for Money

Ease of Use

Customer Support

Likelihood to recommend

10.0

/10
Operations Manager
Reviewed on 27/3/2017
We went live in Global Shop on 04-01-15 and in virtually all areas of our company, it's simplified...
We went live in Global Shop on 04-01-15 and in virtually all areas of our company, it's simplified how we operate. Is there a learning curve? Yes, but we went into the transition expecting a learning curve! It was new, complex software that took the place of multiple homegrown systems. It took 4 months from when we started till we went "live", which for us exceeded our expectations.
Pros
1. Customer Support - Global Shop was and has been with us every step of the way. It's an understatement to say selecting an ERP system is a big deal! There will be questions/issues to work through and when those questions/issues come up, you need answers ASAP. Global Shop has been there for us.
2. Simplifies operation - Having everything one umbrella has been a game changer for us. No more double entering.
3. The list goes on - Advanced Planning/Scheduling, visible inventory, real-time job costing, auto-purchasing, etc.
Cons
1. The shop side has been fantastic. The office gals had a tough time transitioning the accounting side to Global Shop from Quickbooks. Although one thing I will say on this is, Global Shop was always there to answer questions, and now after we are up and going our accountant says her job is easier.
2. Updates (we've been updating yearly). We are committed to staying up to date with the software. So far I've done three updates. Two were seamless and one took a bit more work.
Industry: Mining & Metals
Review Source
Overall rating
Ease of Use

Customer Support

Likelihood to recommend

9.0

/10
A great solution for your manufacturing business!
Reviewed on 17/4/2014
Pros
The product: GSS is truly a one-system ERP. Every aspect of our business will soon be done inside of GSS. There will be no more Word documents or spreadsheets! We utilize nearly all of the GSS modules and a few non-standard modules/programs in addition. One of the most valuable non-standard modules/programs for us has been the SolidWorks to GSS upload tool. This module allows us to model a custom job in SolidWorks and upload the Bill of Material directly to GSS.
One last thing that is nice about GSS is that the number of options for your company is vast. If you don't like the way GSS handles a certain process/action, there is probably an option to change it. Or, with GAB, you can change it yourself or ask GSS to write the GAB for you.
The vendor: GSS is great to work with. They respond quickly to inquiries or problems and have a variety of pre-recorded or virtual training options (not to mention on-site training) available.
The product and vendor: GSS does not stop moving. GSS continues to make their programs and services better and better.
Cons
The product: GSS heavily utilizes Crystal Reports to generate nearly all reports. Almost a year ago, SAP (Crystal Reports) changed the level of process GSS was able to use, making the report generation slower. It has been a minor inconvenience, but an inconvenience nonetheless. GSS has been working on solutions for this, and it has gotten better with the latest updates. We are an update or two behind the current version (shame on us!), in which the update notes have included details about fixing this issue. Obviously, it hasn't been enough of an inconvenience for us to install the update immediately.
The vendor: Occasionally, if you are requesting personal (virtual) training with a specific trainer or on a specific topic, you may wait possibly up to a week or two. This has only happened once or twice, and they are usually able to accommodate much quicker.
Global Shop Solutions FAQs
Below are some frequently asked questions for Global Shop Solutions.
Q. What type of pricing plans does Global Shop Solutions offer?
Global Shop Solutions offers the following pricing plans:
Starting from:
Free Trial: Not Available
To receive accurate pricing information, contact Global Shop Solutions directly.
Q. What are the main features of Global Shop Solutions?
We do not have any information about Global Shop Solutions features
Q. Who are the typical users of Global Shop Solutions?
Global Shop Solutions has the following typical customers:
2-10, 11-50, 51-200, 201-500, 501-1,000
Q. What languages does Global Shop Solutions support?
Global Shop Solutions supports the following languages:
Chinese, English, French, German, Italian, Spanish
Q. Does Global Shop Solutions support mobile devices?
Global Shop Solutions supports the following devices:
Android (Mobile), iPhone (Mobile), iPad (Mobile)
Q. What other apps does Global Shop Solutions integrate with?
Global Shop Solutions integrates with the following applications:
ADP HR Assist, Authorize.Net, COR360, Configure One, CoreCommerce, DataTrans WebEDI, ExakTime, FedEx Ship Manager, Magento Commerce, Microsoft 365, Microsoft Excel, Microsoft Outlook, Microsoft Project, OpenText Magellan, Paychex Flex, Paycom, Paycor, QuickBooks Time, SAP Concur, SAP Crystal Reports, Salesforce B2B Commerce, Shopify, Solid Edge, SugarCRM, SupplyPro, Taulia, TrueCommerce EDI Solutions, WooCommerce, Xero, Zoho Commerce
Q. What level of support does Global Shop Solutions offer?
Global Shop Solutions offers the following support options:
Email/Help Desk, FAQs/Forum, Phone Support, 24/7 (Live rep), Chat
Related categories
See all software categories found for Global Shop Solutions.