GoFrugal
ERP solutions for retail, restaurants & distribution
About GoFrugal
GOFRUGAL is a provider of Point of Sale (POS) billing software encompassing a range of retail, restaurant and distribution solutions for multiple industries. These include supermarket and groceries, hypermarket and departmental, pharmaceutical and healthcare, apparel and footwear, lifestyle, fashion, opticals, sports and games, spa and salon, electricals, books, stationary, hardware, sanitary and more. Each of the available business automation solutions is also paired with multiple mobile apps and cloud deployments, with the latter priced monthly and annually per node, per register.
GOFRUGAL's Cloud POS is accessible from anywhere via any device, benefiting from online and offline functionality thanks to data syncing. Core features include multi-store management supporting centralized supplier management plus a fully automated purchase and reordering process. This includes the raising, creation and generation of purchase indents, purchase orders, and GIN/GIR, along with handling approvals. Inventory control facilitates stock inventory tracking from procurement to sale, while BI-powered reporting capabilities offer sales performance feedback delivered direct to email inbox. In addition, GOFRUGAL offers a selection of companion mobile apps available for iOS and Android devices that includes the WhatsNow POS Owner's app for real time store updates, myPulse for gathering customer feedback, ServQuick for express checkout and Insight for retail analytics.
---
Key benefits of GoFrugal
• GOFRUGAL offers a range of POS billing software supporting single, multi-store and chain retailers requiring solutions spanning business intelligence, customer feedback, order taking & mobile POS.
• Available across 50+ countries, GOFRUGAL serves retail, catering, sales and distribution sectors, with its cloud-based solution benefiting from centralized, multi-device accessibility, automated backup and data syncing for online / offline operation.
• Key features include Sell Management for handling the full sales order process, Store Operations for barcode supported stock inventory tracking, automated purchase & reorder, plus promotional offer creation for running discount programs.
• Role-based security privileges are backed by bio-metric authentication options, while integrated reporting adds performance data visualizations and customizable report templates with custom fields.
• A selection of GOFRUGAL mobile apps include WhatsNow POS Owner's app available for iOS and Android, offering real time store reporting with notifications for sales, margins, bill edits, ageing stock alerts and daily business summaries.
---
Images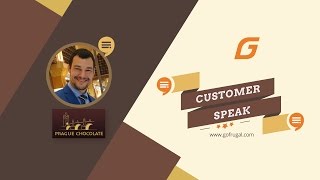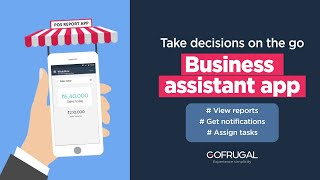 Not sure about GoFrugal?
Compare with a popular alternative
Zoho Invoice
#1 Alternative to GoFrugal
Zoho Invoice is a 100% free, online invoicing software for freelancers and small to medium enterprises (SMEs). It helps...
JustBilling
#2 Alternative to GoFrugal
Just Billing provides POS billing software for every retail, restaurant from small scale business to large. It is...
Stripe
#3 Alternative to GoFrugal
Stripe is an online payment processing tool for internet businesses. Stripe handles everything, including storing...
Redbooth
#4 Alternative to GoFrugal
Redbooth is a task and project management platform that provides a single place for team collaboration – tasks,...
---
Already have GoFrugal?
Software buyers need your help! Product reviews help the rest of us make great decisions.
Showing 5 reviews of 197
Industry: Computer Software
Company size: 2–10 Employees
Used

Daily

for

1+ year

Review Source
Overall rating
Value for Money

Ease of Use

Customer Support

Likelihood to recommend

9.0

/10
RESTAURANT POS -RPOS6.5 REVIEW
Reviewed on 18/5/2019
It is a perfect software to have it in your business to have a 360 degrees view of you business...
It is a perfect software to have it in your business to have a 360 degrees view of you business operations. I am satisfied and would highly recommend to my business partners.
Pros
The software is really fantastic in the sense that i have visibility of the current stock of goods/products in my stores, stock level update, real-time sales reports & able to see the fastest/slowest moving items - all these are visible anytime anywhere on a mobile device i.e thro' Whatsnow App.
I wouldn't miss to mention the quick 24/7 support service, very efficient to mention the least. Very much satisfied with this.
Quick setup of the product - within no time, you started selling through Gofrugal Software with happy results.
Cons
The company should be proactive to get feedback from its clients on the use of their product to ensure that the client utilize the system/product functionality to the fullest...... coz i found out that some crucial functionality are not being utilized reason being it is not known that they exist. With this kind of feedback, the company would be able to narrow down on areas that need training.
Industry: Retail
Company size: 11–50 Employees
Used

Daily

for

2+ years

Review Source
Overall rating
Value for Money

Ease of Use

Customer Support

Likelihood to recommend

8.0

/10
Good Software with decent customer support for Retail Book Trade having a Mid Tier Pricing...
Reviewed on 2/4/2021
My overall experience with GoFrugal has been good over the years.
but "Thank God", they stopped...
My overall experience with GoFrugal has been good over the years.
but "Thank God", they stopped partnering with other local companies to sell their product in the market. At the time of installation 5 years back, it was a nightmare, their local vendor only knew how to install the product but not how to train us in moving our age old business procedures and techniques to the GoFrugal Platform. I was seriously considering of cutting my losses and moving to Tally. But I am now realizing that I am much better off with GoFrugal as my partner;
No doubt there were initial hiccups but even though they started their business from Pharmacy Vertical, they have currently tailored their product for Book Trade pretty decently.
GoFrugal has saved us a lot of time, effort and money over the years and helped us grow.
Pros
1. Ease of Use - The Menus and Navigation for billing are quite simple making it easy for even our support staff to jump in and help during peak hours.
2. Robust - We have been using RPOS 7 since the last 5 years and there has never been an SOS situation
3. Customer Support - During there initial years they were struggling in this aspect but since the last couple of years they have become better but there is room for improvement.
Cons
1. YouTube Videos are helpful to some extent but they don't update their help documents repository.
2. Most of the times when I contacted customer support there first suggestion will be please update to the latest build and hope this has been fixed, even after I have told them, I recently updated.
3. There are only a few knowledgeable customer support executives who immediately can figure out your issue and have the solution ready for you. For others they need to train more thoroughly. "I do not want to know the cause of my issue but the solution"
Reasons for Switching to GoFrugal
Features and Pricing
Response from GOFRUGAL Technologies
Thank you for your review. We will get in touch with you to understand more in detail on how to improve our ratings
Overall rating
Ease of Use

Customer Support
Poor Design, Inflexible Service, Poor Retainership
Reviewed on 10/4/2016
I have a startup company(a restaurant in Gurgaon) and purchased GoFrugal POS on annual contract....
I have a startup company(a restaurant in Gurgaon) and purchased GoFrugal POS on annual contract. The first call from Gofrugal, Selling of software, Sales and setup was done as swift as possible. I was impressed. The first bummer was when I had to avail software training within 1-2 weeks, else my "training period" will expire and I will have to pay for software training later. The software training is 30% cost of the whole software. Bizzare but true.
The online support definitely works very well. You call them and they are ready to offer you help. The problem is, what all help they will offer you free of charge. We had to ask them enable to enable printing KOT and were told about charges that would need to be paid.
The problem is - when you are new in business, such things are not well known to you as business and GoFrugal kept surprising us with basic facilities coming out to be chargeable.
The biggest problem is the poor user interface of product - this is an old school design and when I started to use it, I realize the software poor user interface slows me down as the time to complete one transaction is long. For e.g, when I have to take an "home delivery order" the interface is badly designed and it will take anything from 1 mins to 3-4 mins to take 1 order, which is not acceptable. it slows the capability to process orders.
Do research yourself or ask for trial and use it well before making an opinion.
Response from GOFRUGAL Technologies
Dear Mr. Gaurav,
We are sorry that we haven't met your expectations. Delighting & serving customers with transparency has been at the heart of GoFrugal. We are the first to introduce a myGoFrugal app for our customers to help raise support tickets, check resolution timelines, chat, re-open or escalate and rate the experience. You can download it for free - from Play store and App store
You purchased 'Standard' edition of our software on a subscription basis which includes 2 training coupons (4 hours each) worth Rs. 6,000+Taxes, which you have the right to handover on satisfactory training. Since new employees joined you, you had requested for additional training visits, which is a paid service - http://bit.ly/2avFBPr. Our 24x7 Assure Care system takes care of product bugs, issues, breakdowns etc. Re-training and additional print profiles are services that needs professional consultation and thus we recommend you to pay and buy additional coupons
We are eager to help you & solve this
Industry: Retail
Company size: 51–200 Employees
Used

Daily

for

2+ years

Review Source
Overall rating
Value for Money

Ease of Use

Likelihood to recommend

6.0

/10
A few suggestions that can benefit all your clients
Reviewed on 24/3/2021
Overall, I'd rate the experience a little above fair. I have shared a lot of suggestions and the...
Overall, I'd rate the experience a little above fair. I have shared a lot of suggestions and the discussions are not being taken very seriously. Some essential features are still needed in the software which can definitely make this one of the best software in the industry. Some existing features are not complete and they are blunt. They can be improved by taking direct suggestions from the customers' experience. A recent happening was regarding the ORDER EASY APP. There were a lot of glitches in the app but it was very hard to commincate with you and I had to spend a lot of time and money to develop a new app with other company. I will be happy to share more views on the Gofrugal product and improvement suggestions over a google meet if possible. You may contact me over my email if you are interested.
Pros
I like the many solutions that this software has to offer. A lot of the solutions that come along are really great and make the work easy. A lot of the common issues being faced in the FMCG retail sector are already addressed in the software. Also, I would like to appreciate the kind and respectful attitude of all the staff, especially, [SENSITIVE CONTENT HIDDEN]. However, improvements are needed in a lot of areas.
Cons
Yes. Definitely. There are a lot of features that can be updated and a lot of other modern features are to be included as well.
1. A lot many offer management scheme exists. But majority of them are useless for HQ customers having central pricing and offer management. As we have multiple outlets, we are unable to work out offers for our customers centrally. Most of the offers can be set only in the RPOS which is not the way forward. Also in today's market offers using promo codes must be made available.
2. There is no real solution to handle damaged products. Practically, the process is a lot more complex one than just transferring it to a sub location and using the wastage entry module in the software. This creating a lot of financial trouble for us.
3. No way to bulk update Markup/Markdown price setting for products in HQ.
4. No way to identify the minimum/maximum stock level of the products as a variable. The minimum stock level for 20000+ products cannot be determined easily and varies outlet to outlet, product to product. These values must be picked up from the sales data of the product. Also, there is no notification or interface to know the stocks approaching zero and order them before approaching zero.
5. No way to print shelf price cards for products directly from the software after purchase entry so as display them on rack.
6. Big lag in solving issues. When an emergency situation arrives there is no point of contact to solve it asap.
Response from GOFRUGAL Technologies
Thank you for sparing your time and sharing the review. We definitely look into your feedback and work on it
Industry: Retail
Company size: 51–200 Employees
Used

Daily

for

2+ years

Review Source
Overall rating
Value for Money

Ease of Use

Customer Support

Likelihood to recommend

10.0

/10
Easy to use feature packed software within budget
Reviewed on 13/4/2021
Pros
The first benefit one will notice while using this software is its ultra short learning curve with easy to use features and a host of options to choose from. This is just the beginning, pros also include good support from their assure care team and a timely resolution of of the reported issues in most of the cases. There is also an added benefit of development support for any customisation or personalisation requirements. The HQ portal consists of a host of analytics and reporting tools to ease MIS and business intelligence needs.
Cons
With all the the benefits and features currently offered I feel there is still scope of improvement by adding up to the existing ones. Many other competitors in this segment of retail ERP is strategically partnering with many a lot of third parties to offer free integration from the ERP end. A similar list of strategic partnerships with Gofrugal is hopefully under development or yet to be developed. Focusing on this area may have a positive impact on customer satisfaction as well as business development.
Response from GOFRUGAL Technologies
Dear Soumya, Thanks so much for your feedback! We're really glad that you are enjoying our product and service. Yes, we have worked along with the third party payment, CRM integrations, you can get in touch with Ushatirtha Das and discuss on it.
GoFrugal FAQs
Below are some frequently asked questions for GoFrugal.
Q. What type of pricing plans does GoFrugal offer?
GoFrugal offers the following pricing plans:
Starting from:
Pricing model: Free Version, Subscription
Free Trial: Available
GOFRUGAL Cloud Pricing: MONTHLY QSR = $13 per node per register Retail = $30 per node per register ANNUALLY QSR = $130 per node per register Retail = $300 per node per register GoFrugal WhatsNow: Annual = $59 per user Monthly = $6 per user (App available free via iTunes / Google Play) GOFRUGAL General Pricing Plans: Starter (Inclusive of 4 hours service) = $375 Standard (Inclusive of 6 hours service) = $625 Professional (Inclusive of 9 hours service) = $1500 ERP = Request for quote (Find extended pricing details via the website)
Q. Who are the typical users of GoFrugal?
GoFrugal has the following typical customers:
Self Employed, 2–10, 11–50, 51–200, 201–500, 501–1,000, 1,001–5,000
Q. What languages does GoFrugal support?
GoFrugal supports the following languages:
English
Q. Does GoFrugal support mobile devices?
GoFrugal supports the following devices:
Android (Mobile), iPhone (Mobile), iPad (Mobile)
Q. What other apps does GoFrugal integrate with?
GoFrugal integrates with the following applications:
Adobe Commerce, Microsoft Dynamics GP, MobilityeCommerce, Pathfinder, Razorpay, SAP S/4HANA Cloud, Shopify, Tallium, Zepo ecommerce
Q. What level of support does GoFrugal offer?
GoFrugal offers the following support options:
Email/Help Desk, FAQs/Forum, Knowledge Base, Phone Support, 24/7 (Live rep), Chat
Related categories
See all software categories found for GoFrugal.