Jobber
Quoting, scheduling, & invoicing for home service businesses
About Jobber
Jobber helps home service businesses provide a seamless customer experience and keeps jobs on track, from the customer's request to the moment you're paid.
Jobber is customizable to fit your process, no matter what industry you're in. Efficiently schedule jobs, optimize routes, send quotes and invoices by text, and get paid on-site. With a mobile app, simple setup, and free 1-on-1 training, you'll be running a more efficient business in no time.
Get more done without having to hire additional staff. Send customers automatic appointment reminders, optimize routes, and give your crew the job details they need through the Jobber app.
Keep jobs on track without all the micro-management. See exactly where crews are and get notified when a job's done. Jobber helps you gather more information about each completed job, so that you can easily fine-tune your process to improve and grow.
When customers call with questions about their service, you'll be ready with answers. See a complete customer history that's organized and accessible from anywhere, and take payments instantly in-person, online within 24 hours, or automatically every month.
With a mobile app, free 1-on-1 training, and simple setup, Jobber helps you save time while delivering 5-star service. Get started today.
---
Key benefits of Jobber
Streamline your workflow by converting quotes to jobs and invoices with one click
Schedule jobs and dispatch your crew faster than your competition by creating and assigning jobs in seconds
Offer seamless customer service with online booking and payments
Prevent no-shows and cancellations by sending automated reminders to let customers know you'll be coming
Get free, award-winning customer support
---
Images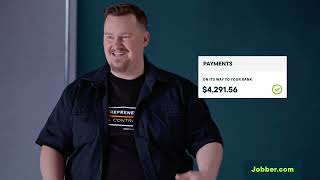 Not sure about Jobber?
Compare with a popular alternative
WorkWave Service
#1 Alternative to Jobber
WorkWave Service is a field service software suited for residential maid service companies, lawn & landscape professiona...
QuickBooks Online Advanced
#2 Alternative to Jobber
QuickBooks Online Advanced is a web-based accounting & business management solution which enables small businesses to...
SkyBoss
#3 Alternative to Jobber
SkyBoss is a back office and field-based service management solution for the scheduling, dispatch and job tracking of...
Knowify
#4 Alternative to Jobber
Knowify is a mobile contractor management solution that helps construction companies manage jobs, contracts, change...
---
Already have Jobber?
Software buyers need your help! Product reviews help the rest of us make great decisions.
Showing 5 reviews of 727
Industry: Construction
Company size: 2–10 Employees
Used

Daily

for

1+ year

Review Source
Overall rating
Value for Money

Ease of Use

Customer Support

Likelihood to recommend

10.0

/10
Game changer for Trades businesses
Reviewed on 12/12/2019
Support and product development are outstanding, other than dual property owners pretty much every...
Support and product development are outstanding, other than dual property owners pretty much every issue or 'complaint' I've ever had have been addressed via updates, or with simple education. My Jobber mantra is '... it's probably right in front of me...', and odds are if I need a feature, it likely is in fact already there.
In summary, I have stopped recommending Jobber to any of my local competitors, as it has literally become my single most valuable business tool.
Pros
The user experience is second to none, both Client and User. We continually sell jobs away from competitors due to the ease of quote approval alone, and overall convenience and professional appearance are again best-in-class
Cons
Would LOVE to have the ability to list [2] property owners' names, first & last, when different. In our [SF Bay Area] more often than not we have homeowner-partners with separate last names, and both want to be included on all paperwork... honestly that's the ONLY complaint I can come up with after two years of daily use!
Response from Jobber Software
Thanks for the review, Eric! So glad to hear things are going well and that overall you're enjoying and getting value from Jobber. We've made a note to our Product Team about your request around having multiple pieces of contact info per client as that value with multiple property owners/managers is totally understandable. It's certainly not off the table for future updates. Cheers!
Industry: Consumer Services
Company size: 2–10 Employees
Used

Daily

for

1+ year

Review Source
Overall rating
Ease of Use

Customer Support

Likelihood to recommend

9.0

/10
Jobber Customer Support Employees Deserve a Raise
Reviewed on 28/4/2023
Pros
Jobber definitely has a learning curve. Any time I have ever had a question, though, Jobber support has been ULTRA helpful. Now that I am comfortable with the software, I love it. The setup makes it so easy to see what needs to be done so I don't miss anything, and the step-by-step process makes quoting, scheduling, and invoicing very streamlined.I find myself going "Oh, cool, Housecall Pro wouldn't let me do that" often.
Cons
The top two main concerns are issues with multiple contacts under a profile and calendar colors. I have no way of knowing what phone number/email goes to who, and I have up to 7 numbers under some of our commercial accounts. I need to be able to custom label numbers/emails other than "Work, Mobile, Home" Calendar colors is the only thing I miss from Housecall Pro. I could enter the HTML color code which made it so much easier to tell people apart on the calendar. While I'm at it, I'd like to be able to click and drag things at 15 minute intervals instead of 30 minutes; that would save me so much time.
Response from Jobber Software
Hey Olivia! This was such a detailed review, so thank you so much for sharing this with us! It's so nice to know that our Support team was able to help make sure you were set up and feeling comfortable with Jobber and that you've now got everything in place so that you won't miss anything.
Really appreciate you flagging those concerns to us too! Our Support team can definitely offer suggestions for both the contact info you're needing to be more clearly labelled and calendar colors, so feel free to reach out to us to chat more about those pieces. It'd be great to hear from you!
Industry: Chemicals
Company size: Self Employed
Used

Daily

for

2+ years

Review Source
Overall rating
Value for Money

Ease of Use

Customer Support

Likelihood to recommend

3.0

/10
Good but not great. Extremely slow to implement functional improvements
Reviewed on 17/8/2023
The biggest benefit for my industry is to have an all-in-one software that lets me manage clients,...
The biggest benefit for my industry is to have an all-in-one software that lets me manage clients, scheduling, billing, and reporting, and most importantly track and log my pesticide usage - which is a legal requirement for my industry. It does the first 4 things really well, but the chemical tracking is such a cumbersome, poorly designed abomination that I'll jump ship in a heartbeat the minute I can find a comparable CRM solution.
Pros
It's easy(ish) to get started. There's a lot to learn, like any software, but once you get used to it it's pretty good. Menus could be better, there's important features hidden in weird areas, but there's not so many different areas to explore that it's overwhelming.The ability to integrate a contact form into a website is a big one, it makes grabbing all of a customer's basic info a snap. Creating quotes, jobs, scheduling visits, invoicing, follow ups, all a snap.The mobile app is OK, could definitely benefit from improvements though. Hard to use an app that doesn't have any offline functionality whatsoever.Customer service is decent - though it used to be GREAT. Wait times are now very long, but the staff are all friendly and knowledgeable.The ability to create your own (service) reports and job forms to attach to visits is an important and useful feature for my industry. Attaching photos and other relevant files is quick and easy.
Cons
The short version of complaints is that Jobber devs simply don't listen. Ever. Years of submitting the same recommendations and complaints and nothing gets addressed. And I'm talking about fundamental critical changes that are vital to my industry, not cosmetic things or little bugs. But no, just the same lip service from the CS team "we'll certainly pass this along to our dev team". All they seem to be focused on improving is the offerings in their app marketplace, finding redundant integrations that no one is asking for or needs.Jobber is VERY expensive, which adds to the frustration of being ignored. If it fits your needs as is, great, but don't expect any changes.The mobile app can't be used properly offline. It won't even launch if there's no data. So if trying to access your schedule to find the address for your next appointment you'd better hope you took a screenshot of your day in the morning so you know where you need to go.Jobber doesn't push changes to client changes to QBO, instead it relies on making the changes in Quickbooks to be pushed to Jobber. We're using the CRM software as the primary tool to manage all aspects of client info, yet we have to open a completely different software to save changes to certain info.Pesticide use records. The whole thing is a mess, from top to bottom. Period.The system sends WAY too many emails to clients for various functions. I'm often marked as a spam sender and vital communcations are missed.
Response from Jobber Software
Hi there John! Thank you very much for taking the time to leave us a detailed review.
Jobber has been, and continues to be, built on customer feedback and we acknowledge that suggestions that are provided to us might not come to fruition. We prioritize development based on customer impact to the majority, but we encourage you to keep sharing any ideas you have and check the Product Updates area for future changes.
With our new app design, certain functions were created to allow for unsaved items to be stored until a connection has been restored. However, this is just a start and we know there is much more we can do! We'd also love to hear what your needs would be for further offline functionality.
As for our sync with QBO, we are in the process of releasing a new version of the sync which will look at Jobber as the source of changes, so we also encourage you to reach out to us as migrations to this new sync is now available.
Finally, with the emails that we send out to your customers, this can be refined and we'd also like to know more which ones they are finding to be noisy or annoying.
We really want to stress how important it is for us to understand your needs and appreciate you sharing your thoughts. If you reach out to us, please be sure to mention that you left a Capterra review and we can speak to you directly about your feedback.
Take care!
Industry: Utilities
Company size: 2–10 Employees
Used

Daily

for

1-5 months

Review Source
Overall rating
Value for Money

Ease of Use

Customer Support

Likelihood to recommend

10.0

/10
So grateful we switched!!
Reviewed on 25/9/2023
Since switching to Jobber my job managing the office has became so much easier. I cannot recommend...
Since switching to Jobber my job managing the office has became so much easier. I cannot recommend this software enough.
Pros
What isn't the most useful is a better question! I have tried other companies for our workflow and nothing compares. Everything I could have thought of that we needed in a software company is already implemented with you guys. Whether it be scheduling, live GPS tracking for technicians, job costing, estimate options, job pictures, etc. It's all right here. Not to mention I can link about every other software we use so they can be integrated.
Cons
I don't have any! Everything I need is already there.
Response from Jobber Software
Hey Jillian! We're so grateful that you switched too and that you've had such a great experience! Finding the right fit for your workflow is so important and we're so happy that Jobber has been able to integrate so seamlessly with your needs and keep everything that you need in one place.
Thank you very much for your feedback here! Appreciate you!
Industry: Electrical/Electronic Manufacturing
Company size: 2–10 Employees
Used

Daily

for

1+ year

Review Source
Overall rating
Value for Money

Ease of Use

Customer Support

Likelihood to recommend

10.0

/10
Easy, Simple but Powerful App
Reviewed on 19/4/2023
Overall our experience has been great. We haven't had to contact customer service but a couple of...
Overall our experience has been great. We haven't had to contact customer service but a couple of times and they are on top of it and that is very important to me as the admin, because I am not with my employees all day, I am at the office and when they have a problem, I point them to Jobber customer service and you guys are awesome. Our employees are able to really track their time on the jobs which in the end will help them when they apply for their own electrical license.
Pros
The fact that it was very easy to implement and get our staff on the app with such ease. The customer service is awesome. I can't tell you how many times I have punted questions from my employees over to the customer service chat on their own devices to answer their specific questions.
Cons
I wish that when we invoiced from Jobber and synced it with Quickbooks, that if we have a change on that invoice, that the change would sync over to quickbooks as well. I wish that there was like a daily journal feature that could be implemented somehow. My husband comes home at night and physically writes down all the things he did that day. So like a check list for himself. If I could get him to do on his Ipad, it would save him some time I think.
Reasons for Switching to Jobber
A plumber friend of mine mentioned it and we looked into Jobber and did a demo, plus my friend showed up some real life situations on his phone and my husband was sold.
Response from Jobber Software
Hey Candi! This was such a thorough review, thank you so much for taking the time to share your thoughts here! We especially appreciate your notes about wanting updates to sync to QuickBooks and some sort of journal space to hopefully save your husband some time. It sounds like the journal especially would be a big help for you two, so that's great feedback for us to have. Thanks again!
Jobber FAQs
Below are some frequently asked questions for Jobber.
Q. What type of pricing plans does Jobber offer?
Jobber offers the following pricing plans:
Starting from: US$19.00/month
Pricing model: Subscription
Free Trial: Available
Jobber offers 4 plans with different available features and numbers of users per plan. Jobber Lite starts at $19/month. Jobber Core starts at just $69/month. Jobber Connect starts at $169/month. Jobber Grow starts at $349/month.
Q. Who are the typical users of Jobber?
Jobber has the following typical customers:
Self Employed, 2–10, 11–50
Q. What languages does Jobber support?
Jobber supports the following languages:
English
Q. Does Jobber support mobile devices?
Jobber supports the following devices:
Android (Mobile), iPhone (Mobile), iPad (Mobile)
Q. What other apps does Jobber integrate with?
Jobber integrates with the following applications:
Braintree, Fundbox, Google Calendar, Mailchimp, PayPal, Quickbooks Online, Square Point of Sale, Stripe, Zapier, authorize.net
Q. What level of support does Jobber offer?
Jobber offers the following support options:
Email/Help Desk, FAQs/Forum, Knowledge Base, Phone Support, Chat
Related categories
See all software categories found for Jobber.