mHelpDesk
Win more jobs and grow your business with mHelpDesk!
About mHelpDesk
mHelpDesk is built to be super fast and easy to learn. We have free daily training and a welcome team to get you trained and using the software.
Our top rated field service software is incredibly powerful and supports a wide variety of scheduled and unscheduled work flows, with both one time and recurring appointments. Make sure your team is fully allocated with mHelpDesk's scheduling calendar, and efficiently routed with the map view.
mHelpDesk's invoicing system is fully integrated with our easy scheduling platform, providing one click invoicing with job tracking and reporting that will guarantee you get paid fast, every time. mHelpDesk's customers are happily eliminating the double data entry of working with third party accounting systems like Quickbooks, and you can too!
Keep track of all your customer interactions in mHelpDesk so that you and your team have the information you need, when you need it. Custom fields make it easy to track the specific bits of info that are unique to your business, and of course all of it can be seen in real time by you and your team on your mobile devices in the field, or from wherever you happen to be.
As the highest rated cloud based business system for field service businesses, mHelpDesk is an excellent partner for success now, and into the future. We're making additions and improvements almost daily, and are building long, happy relationships with customers for life. We look forward to serving you too!
Pricing starting from:
US$169.00/month
Free Version

Free Trial

Subscription
Top 5 alternatives to mHelpDesk
Key benefits of mHelpDesk
Win more jobs, stay more organized and grow your business with our industry leading field service software.
mHelpDesk allows you to access your customer information from any computer or any device. Our software is easy to use for estimates, scheduling, jobs, invoicing and so much more.
mHelpDesk is perfect for HVAC, Plumbers, Electricians, Pest Control, Computer Repair, Carpet Cleaners, Maid Service, and many more!
Typical Customers
Freelancers

Small Businesses

(2-50)

Mid-size Companies

(51-500)

Large enterprises

(500 and more)
Pricing starting from:
US$169.00/month
Free Version

Free Trial

Subscription
Top 5 alternatives to mHelpDesk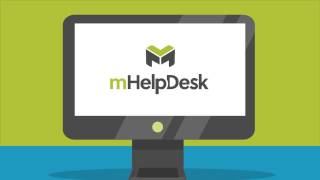 Total features of mHelpDesk: 153
API
Access Controls/Permissions
Accounting Integration
Activity Dashboard
Activity Management
Activity Tracking
Add & Edit Photos
Alerts / Escalation
Alerts/Notifications
Appointment Scheduling
Approval Process Control
Asset Tracking
Audit Management
Audit Trail
Automated Quoting
Automated Scheduling
Automatic Backup
Automatic Time Capture
Billing & Invoicing
Business Process Automation
CRM
Calendar Management
Calendar Sync
Calibration Management
Cataloguing/Categorisation
Client Management
Client Portal
Comment Library
Commercial Inspections
Commercial Properties
Commercial/Industrial
Configuration Management
Contact Database
Contract/License Management
Cost Database
Cost Tracking
Credit Card Processing
Customer Database
Customer History
Customer Management
Customisable Branding
Customisable Forms
Customisable Reports
Customisable Templates
Customizable Fields
Data Import/Export
Data Visualisation
Digital Signature
Discount Management
Dispatch Management
Document Management
Drag & Drop
Electronic Payments
Electronic Signature
Email Management
Email Reminders
Employee Database
Employee Management
Employee Portal
Employee Scheduling
Equipment Maintenance
Equipment Management
Equipment Tracking
Estimating
Event Calendar
Facility Scheduling
File Storage
Financial Management
Fixed Asset Management
Fleet Management
For Commercial and/or Industrial Electrical Contractors
For Schools
Forms Management
GPS
Geographic Maps
Groundskeeping Management
Group Scheduling
Historical Reporting
IT Asset Management
Incident Management
Inspection Management
Intake Management
Inventory Auditing
Inventory Control
Inventory Management
Inventory Optimisation
Invoice Management
Irrigation Tracking
Job Costing
Job Management
Job Scheduling
Job Tracking
Key & Lock Management
Labor Rates
Landscape Design
Maintenance Management
Maintenance Scheduling
Manufacturing Inventory Management
Mobile Access
Mobile Alerts
Mobile App
Mobile Signature Capture
Mobile Time Tracking
Multi-Location
Multiple Billing Rates
Offline Time Tracking
Online Booking
Online Time Clock
Online Time Tracking Software
Payment Collection in the Field
Payment Processing
Preventive Maintenance
Pricing Management
Project Management
Purchasing & Receiving
QuickBooks Integration
Quotes/Estimates
Real Time Data
Real Time Reporting
Real-time Scheduling
Recurring Appointments
Release Management
Reminders
Repair Estimates
Repair Tickets
Report Summary
Reporting/Analytics
Residential Inspections
Residential Properties
Retail Inventory Management
Routing
SSL Security
Scheduling
Self Service Portal
Service Catalogue
Service History
Service Level Agreement (SLA) Management
Service Reporting
Supplier Management
Task Management
Technician Management
Templates
Third Party Integrations
Ticket Management
Time & Expense Tracking
Time Tracking
Vendor Management
Visitor Management
Warehouse Management
Warranty Tracking
Work Order Creation
Work Order Management
Jobber
#1 Alternative to mHelpDesk
Jobber's powerful software is perfect for home services businesses. Keep jobs on track and provide a seamless customer...
ServiceTitan
#2 Alternative to mHelpDesk
ServiceTitan is a cloud-based field service management solution that proudly support irrigation, commercial septic...
ServiceMax
#3 Alternative to mHelpDesk
ServiceMax is the field service and asset management solution for hundreds of companies worldwide. The software is a...
Spiceworks
#4 Alternative to mHelpDesk
Keep track of everything that's happening on your network – from when a user installs a piece of software they...
---
Already have mHelpDesk?
Software buyers need your help! Product reviews help the rest of us make great decisions.
Showing 5 reviews of 807
Industry: Information Technology & Services
Company size: 2-10 Employees
Used

Daily

for

2+ years

Review Source
Overall rating
Value for Money

Ease of Use

Customer Support

Likelihood to recommend

10.0

/10
Field Service Software for any Business to Stay Organized
Reviewed on 9/10/2020
Overall I have had a really good experience, anytime I have ran into a problem which is not very...
Overall I have had a really good experience, anytime I have ran into a problem which is not very often but my problems have been resolved in a professional and expediential matter that allowed my business to continue to operate. You can keep an open line of communication with your customers on work order status or any problems that arise during the work order.
Pros
You are able to automate your business to keep a customer database, schedule and track work orders. Billing is a breeze with in the email feature you send to your customers. They can pay directly with PayPal or Credit Card account. There is even a feature to generate leads to your business. You can customize your invoices and work orders to meet your business needs. Works on mobile Apps and integrates all your invoices to quick books.
Cons
When customers pay from your credit card account, you are only able to setup and activate one payment option at a time. It would be nice to have individual bank accounts set for different sections of your business model.
Reasons for Switching to mHelpDesk
I really liked the customer support when I called to get information about the functions and features of their software before making a choice. I felt more serviced as a customer by working with M Helpdesk Staff.
Industry: Medical Devices
Company size: 2-10 Employees
Used

Daily

for

2+ years

Review Source
Overall rating
Value for Money

Ease of Use

Customer Support

Likelihood to recommend

7.0

/10
Great Field Service CRM Foundation
Reviewed on 24/6/2019
Pros
Mhelpdesk Field Service software greatly improved our business workflow by transforming our carbon copy work order system to a fully digital system that helped reduce our turn around time for billing. Recently, I was able to work with a mhelpdesk staff member during the development of the newly designed Equipment page where they were implementing the new features to track when equipment next service due dates are. This was a huge improvement for our business as we track mandatory inspection dates for our customers..
The customer support has always been A+ when it comes to address issues, or questions, especially with the instant chat function from the web app.
Cons
- Mobile App: The mobile app is an area that could see improvement. Some of the workflow using the app when creating a new Service Request can be glitchy and difficult to input all the information. The list of service requests also does not always update correctly and this is something we are currently in the process of working with the support team on.
- Inventory: The inventory management section is severely lacking and is not truly useable for our business workflow. With no ability to enter Purchase Orders/Vendor Information/RMA and tracking when inventory is received without manually adjusting the #'s on the price list, it becomes extremely vulnerable to missed information and inaccurate #'s leading us to use an alternative program to track inventory. This has been one of the hardest work around areas for our company as we are always constantly ordering replacement parts for equipment that we do not normally carry in stock.
- Price List: Another area regarding the price list for our company is that our labor rates are negotiated individually causing us to have to create a line item on the price list for every single Customer Hourly Rate, Mileage Rate, and Travel Time rate so that our engineers are able to bill customers correctly. It would be much easier if when creating a customer, you were able to designate their hourly rates so that information would automatically apply when engineers are entering their labor times.
Industry: Construction
Company size: 11-50 Employees
Used

Daily

for

2+ years

Review Source
Overall rating
Value for Money

Ease of Use

Customer Support

Likelihood to recommend

9.0

/10
Overall Pretty Great!
Reviewed on 13/6/2019
Overall I would recommend this to most people in search of a CRM. There are a lot out there, but I...
Overall I would recommend this to most people in search of a CRM. There are a lot out there, but I cannot imagine the customer service is as good.
Pros
First, The customer service is Great! Especially the rep who helped me out tremendously. The live chat feature is probably the best in the business in terms of helpful information and response time.
Aside from that the software works really well. We are not totally utilizing every feature and it works really well for our company!
- The overall layout and ease of use is great
- Very easy to create leads
- Easy to convert lead to a job
- Easy to create job tickets IF you enter the correct information into the ticket on the first try
- Easy to schedule
- Can even sync it to Google Calendar
- The main screen is plain and easy to use
- Moving from tab to tab is simple and straight forward
- Running reports is easy and great
- Items to service might be useful for keeping track of maintenance items on out company fleet
- May even be useful if we have a better service tech, if we start doing more service items
- We can inventory items as well.
- I would like to explore options that you may know of regarding this and tool tracking inventory
- The customer service live chat on this CRM is great
- The mobile app is great for our guys in the field to use
- Straight forward pretty simple
- Push notifications work great
- Simple and easy to contact customer
- Easy to use maps that integrate with the phones maps software
- There is are a lot of areas where you can customize the fields of input
Cons
- If you don't input the information of the ticket correctly the first time, it makes it extremely difficult to change it after.
- You cannot look up tickets by their address on the mobile app (At least not easily if there is a way).
- When having a recurring lead there is no drop down to select the customer, you have to enter the customers name EXACTLY the same as it was entered the first time
Response from mHelpDesk
Luke, thanks for the detailed review! We're very glad to hear that you are taking advantage of so many features of the app. Please let our team know if there is anything else we can do to help. Thank you for your business!
Industry: Construction
Company size: 2-10 Employees
Used

Daily

for

1+ year

Review Source
Overall rating
Value for Money

Ease of Use

Customer Support

Likelihood to recommend

5.0

/10
Great if You Have to Make Invoices in the Field
Reviewed on 14/1/2019
GOOD.
mHelpDesk does what I need it to do. It is affordable for a small shop. It's the only...
GOOD.
mHelpDesk does what I need it to do. It is affordable for a small shop. It's the only software that allowed my, not-so-computer-literal, technicians to create detailed invoices in the field AND HAND IT TO THE CUSTOMER, and record payment.
I would recommend it.
Most of my frustrations come from having such a very functional software package and my techs have to fill out paper timesheets. All the data needed to create a timesheet exists in the Price List including Items or fields called Labor-Travel, Labor-Tech or Labor-Apprentice. The time they signed in and signed out exists in the items list of the invoice. All we need is a report that can filter this data and voila we have timesheets.
Pros
Support is very good.
Works great if you make many invoices in the field, print them and hand them to customers. Must have internet signal.
Email Invoice with Payment Button. Customer clicks the button and pays with credit card.
Easily convert Estimates to Service Call to Invoice.
Customer Info with multiple jobsites easily managable.
Great mobile app., fluid, very functional, easy to use.
Intuitive desktop platform.
Works great with QuickBooks Desktop.
Cons
You will have to pay to retrive YOUR DATA when you leave mHelpDesk.
No inventory. Don't let them fool you. You cannot create PO's and have to go to a price list, select and item, delete the quantity, and enter the new quantity everytime you want to add inventory. No inventory history.
No Time sheets. Again, don't let them fool you. Technicians can sign in in the morning and sign out in the afternoon and you can print a report. That's it. No phase codes. Cannot label time entries. No way to associate payroll to billable hours/ServiceCalls/Jobs.
Custom Reports? Never could create one that was usefull and I have 20 yrs experience in MS Access.
Response from mHelpDesk
Tim--thank you so much for this detailed and very helpful feedback! We will share it with the product team so they can explore some of the ideas that you've raised.
Industry: Consumer Services
Company size: 11-50 Employees
Used

Daily

for

1+ year

Review Source
Overall rating
Value for Money

Ease of Use

Customer Support

Likelihood to recommend

10.0

/10
Reports
Reviewed on 4/4/2018
- great customer service availability by phone and online chat.
- easy scheduling.
- mobile app...
- great customer service availability by phone and online chat.
- easy scheduling.
- mobile app for technicians on the road.
Pros
With the help of the support team I was able to filter out a list of customers that live in a certain region. Our out of town customers are grouped by areas. In order to send those customers a reminder email or reminder cards we need to filter them from mHelp. The report feature is too restricted and didn't help us. Then finally I had someone on the phone that told me to create a new selection under Customers. I selected the cities that are on that route and listed all of them separately. And voila, I had a list of customers that I was able to export to excel.
Cons
I don't like the way the reports are set up. There should be at least one report available that we can select/ search for all the fields that we need included. At the moment the customer custom fields can NOT be selected. Although this is a database that we're working on and theoretically all fields can be searched. I think it is not only us that ran into this problem. I need to be able to select fields that are important to our business to filter out e.g. the customer, their address, email, phone number in a certain region.
Another problem that came up from the solution above is that those lists can not be edited and therefore always need to be deleted and re-entered. It would be great if that could be editable. If that function would be editable it would eliminate possible mistakes while re-entering the whole list of e.g. cities that were entered before.
Response from mHelpDesk
Hi Sigrid--thank you so much for this review and feedback on our reporting. We're always looking at ways to improve so this is very helpful, and will be shared with our product team. We appreciate it!
mHelpDesk FAQs
Below are some frequently asked questions for mHelpDesk.
Q. What type of pricing plans does mHelpDesk offer?
mHelpDesk offers the following pricing plans:
Starting from: US$169.00/month
Pricing model: Subscription
Free Trial: Available
14 Day Free Trial. Affordable month-to-month pricing. No contracts. Unlimited user plans available.
Q. Who are the typical users of mHelpDesk?
mHelpDesk has the following typical customers:
Self Employed, 2-10, 11-50, 51-200, 201-500, 501-1,000, 1,001-5,000
Q. What languages does mHelpDesk support?
mHelpDesk supports the following languages:
English
Q. Does mHelpDesk support mobile devices?
mHelpDesk supports the following devices:
Android (Mobile), iPhone (Mobile), iPad (Mobile)
Q. What other apps does mHelpDesk integrate with?
mHelpDesk integrates with the following applications:
Authorize.Net, Close, Google Analytics 360, Google Calendar, Google Workspace, Mailchimp, PayPal, QuickBooks Online Advanced, Quickbooks Online, Stripe, Twilio, WordPress
Q. What level of support does mHelpDesk offer?
mHelpDesk offers the following support options:
Email/Help Desk, FAQs/Forum, Knowledge Base, Phone Support, Chat
Related categories
See all software categories found for mHelpDesk.